This week we entered into a new level of chemotherapy.    We started a round of treatment that will test the ability of little Audrey's body to produce white blood cells and keep fighting as we continue to tear it down.  This is also a big week for Cole.  It's his first week of second grade.  The Children's Cancer Network has been very kind to us and has supplied Cole with everything and a little more than he needs to be prepared for the year.
We start our week off all dropping Cole off for schoo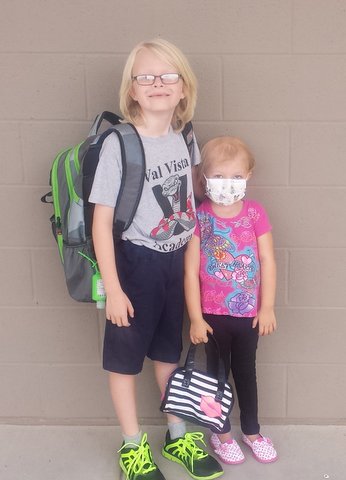 l and loving on him as he is super nervous.  He does fine once in line and heads into the school without even looking back.  He is getting so strong.  I told Audrey to smile when I took the picture.
Then we headed to the Oncology clinic to get a check up and make sure Audrey was healthy enough to get chemo.   Everything was good and we got the green light to check in for our first round of inpatient chemo.  We finally got over and into our room at about noon.  They said that one of the chemo's would burn her kidney if she wasn't at a certain hydration level so we waited to reach that point getting pushed a lot of fluids.  Finally at 9 PM we were ready for Chemo.  The first was the normal Vincristine then at 11 PM they started the first of two chemo's they take 24 hours each to administer.
That evening they decided the UTI that Audrey has been hospitalized the week before was a resistant strain and required a contact restriction and isolation.  This was troubling as it meant we had to stay in our room and that wasn't going down very well with the 3 year old.   It also jeopardized the possibility of us staying at the Ronald McDonald house in Houston which made it even more of an issue.  Audrey continually asked to go to the Play room but we couldn't let her.  We talked to the nurse's, the doctors, and anyone that would listen to that this was silly.  The infectious disease doctor even came by and looked her over and stated in his notes that there is not need for the isolation and contact restrictions as this virus is only resistant to one antibiotic but sensitive to everything else and this has been common knowledge for over 50 years.  The next morning during rounds I brought up the notes and asked what could be done.  Then a God moment happened.  As the team of medical staff was leaving our room the infectious doctor just happened to walk by and talked to the doctor on the floor and convinced him it was worth trying to get her cleared.  By noon they came back and let us know we were released from restriction.   We were in the playroom with in minutes.  It was a small victory but meant a lot to us.
Met the radiation oncologist yesterday finally as well. Been waiting for this appointment for a long time. The doctor was very nice. We asked about radiation toxicity of the Brain and he said that even though the entire brain will have to be irritated because we are using proton it will not cause the hearing loss that photon would and he thinks there is a miss understanding of what does and doesn't cause IQ loss due to radiation. So really no clear answer but he thought it would be less than we expected which is good. The second concern is the growth of her spinal column. Again using proton reduces the damage and spares some of the tissue and cells that are required for growth. So though her spine will be shorter than if she didn't have radiation it won't be hugely obvious which again was not a clear answer but positive.
She will finish up chemo tonight and be released in the morning.  Week one is complete.  5 more inpatients to go in this treatment cycle.  Hoping they go smoother.