In some ways it seems like this trip has been an eternity.  In other ways it has been a blur of appointments, events and new friendships.  When we got to Houston in September it was still very hot out.  Now we have enjoyed many fall days and a lot of rain.   We have settled into one room living and are very much looking forward to having some walls between us when we get home.  It should be interesting to
see how the kids adjust to having to be alone at night though.  The first weekend in Houston we got to attend the last home game of the season for the Houston Astro's then last night we got box seats at the Houston Rockets game thanks to Dwight Howard.  Many amazing memories have been formed that the cancer can never take away.
Audrey has left her mark all across Houston in a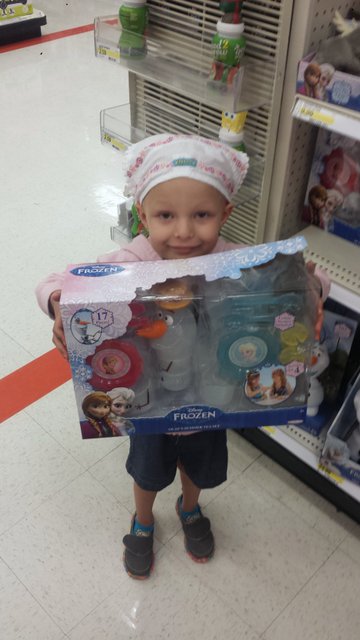 way that only she can do.  There is no escaping her smile and beautiful eyes as she reels you in and gets anything see wants.  Unless of course you are her parents that watch this everyday and laugh as she snares another passer by.   She saw a Frozen themed tea set at Target while we were looking through the toy isle shortly after getting into the house.  She asked me to get it for her and I said no since she gets a new toy pretty much every day.  I told her maybe for her birthday.  She then told every person from that point forward in detail about this tea set she wanted.  We had at least 5 people ready to buy that tea set for her birthday.  It wouldn't take long of course until it finally showed up one day when she was waking up from anesthesia.  Our new good friend Laura from child life had left it on her bed one day.  Now that she had that she quickly moved on to her new request which is 2 watering pots.  She says she needs one for our garden at home and one for the garden at Grandma Jones's(GJ's) house.  She now has a few people already committing to having those for her before we leave Houston for her birthday.  She even told Dwight Howard what she wanted while he was here at the house.  So we might end up with a few extra.  I stand by my claim that God has imparted a charisma in this girl that is undeniably inescapable.  The oncologist told us no kid has every come in and won the office over in a way that Audrey has.  When she walks into clinic the office stops to see Audrey come in.  Audrey has clearly been put on this earth for a very obvious reason.  To make people smile for as long as God lets her.
In the last four weeks we have been incredibly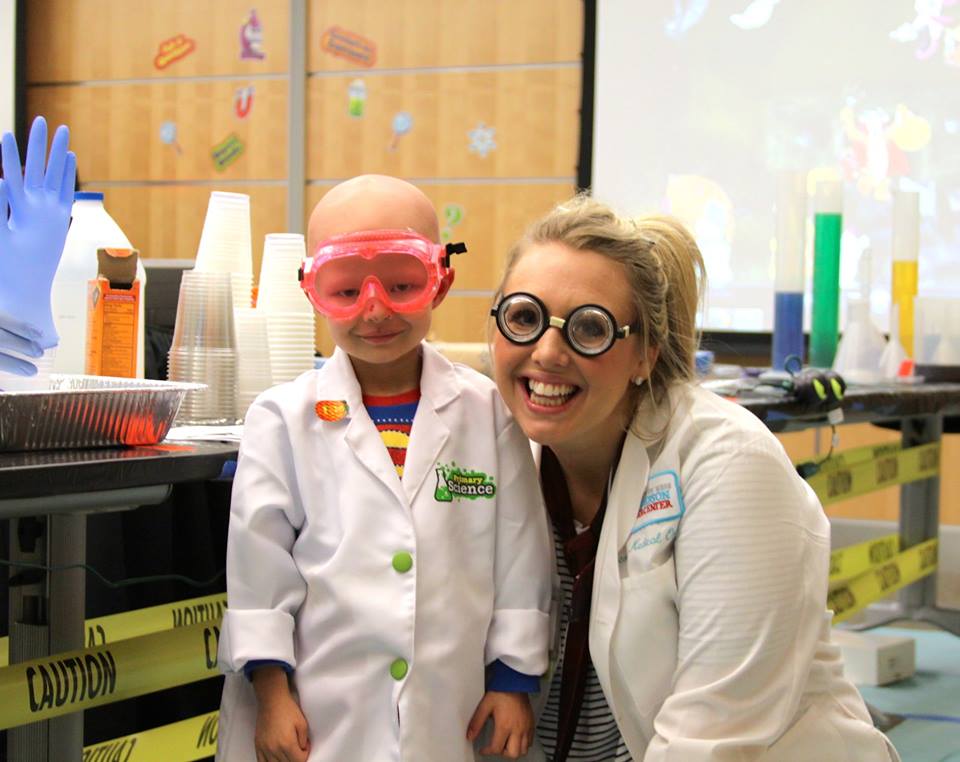 busy.  Last week had an amazing event at the Proton center called Mad Scientist where Laura and her team of volunteers had put together a number of fun experiments that had Cole and Audrey completely engaged for the full 2 hours of the event.  The Microwaved Dove soup, created "spy bombs" using zip lock bags and vinegar in water and a bunch of other really fun stuff.   You can see all the fun pictures here at MD Anderson Proton post.  The following day we had fall festival at MD Anderson which is really just inside trick or treating on streroids at MD Anderson.  Unfortuenly Audrey was in radiation for the event but Cole was able to walk in the costume parade.  There were thousands of MD Anderson workers standing shoulder to shoulder handing out candy for an unbelievable distance.  When Cole's bucket filled up the handed us a new bag.  When that bag filled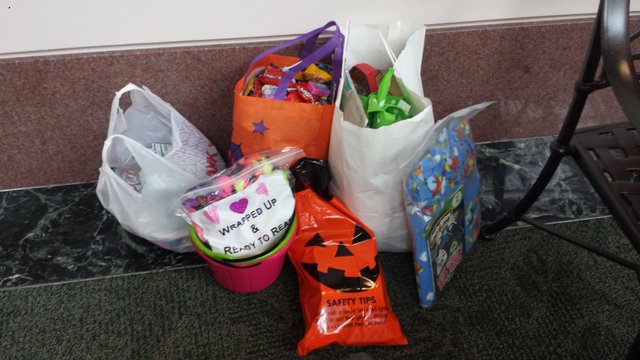 up they handed us another.  By the time we got done we had so much stuff he couldn't carry it.  I would guess he had over 30 pounds of candy and toys.    Then we had Cole's Birthday which saw an amazing community come up and surround this awesome kid.  Melissa's mom had an idea to have as many people as they could get to send Cole birthday cards.  2 of our friends started events to send Cole cards that we didn't know about.  A few days before his birthday cards from all over the country started pouring in.  He even got a card from the UK and another card from a lady named Grandma Verra that was written in Russian that we had to have translated.   He will never forget this birthday and neither will we getting to watch his face light up with every card.  We are still getting a few cards a day almost a week later.  What an amazing birthday.  And of course Cole's birthday is followed by Halloween.  A week before we met some new friends that had volunteered on Friday night for dinner and activities.  They invited us over to their house and neighborhood for trick or treating.   We took them up on the offer and went over to there house and enjoyed an hour or so of normalcy in our crazy world.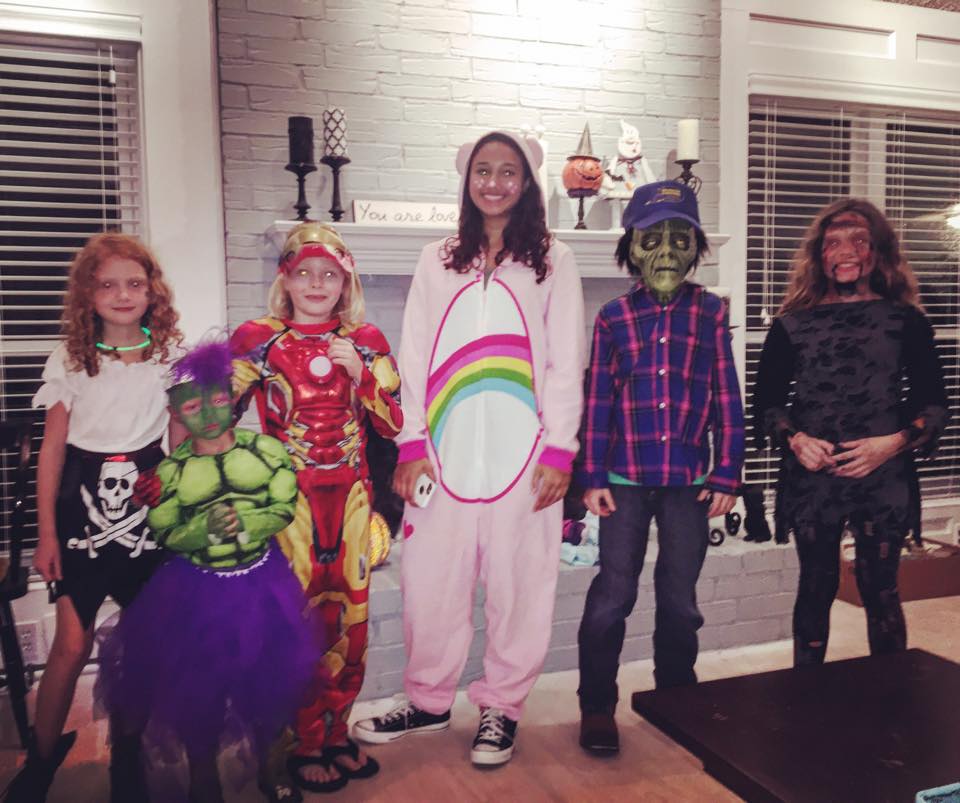 Cole was Ironman and Audrey was Princess Hulk.  We bought a Hulk costume and Melissa made a tiara and tutu to complete the costume.
This week has been a very busy week as we have radiation and Chemotherapy everyday. We have also had doctors visits and a blood transfusion added into the mix which have lead to some long days of running from one place to another.  While visiting with Doctors this week both the radiation oncologist and the oncologist have given us permission to go home on November 11th as long as her white cell counts are good enough.  This is great news and what we have been looking forward to for many weeks.  I asked the radiation oncologist what came of the meeting with all the Rhabdomyosarcoma doctors.  She said they all agreed the current protocol is the best chance of success but still can't tell us if success is even possible.  With her case being so unique there is nothing to compare it against and the best she could give me is they are cautiously optimistic about the results so far and we will just need to continue treatment and evaluate things as they progress.  We will get an MRI in a few weeks to see how effective the radiation has been and the oncologist here in Houston is sending us home with a modified chemo plan going forward as well as promising to stay connected with us going forward.  All we can do now is keep doing as they recommend and enjoying everyday that it affords us going forward.
We can't wait to be home and appreciate everyone one that have come along side of us in this journey so far and the ones we have yet to meet.  God is good and we thank him everyday for the time we get with this beautiful angel on earth.  It may be months or decades but we do know that when it's time she will shine in heaven like no other because her presence on earth is unmistakably God inspired.  We pray everyday for healing and comfort as she progresses through this journey.